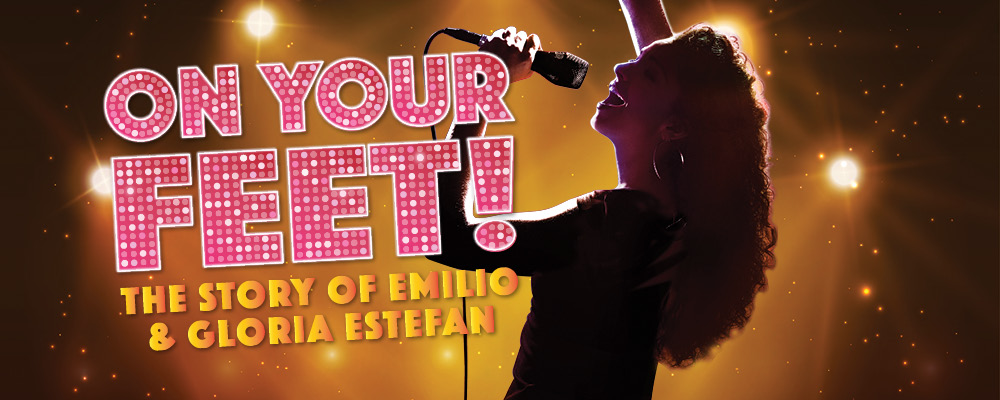 May 8 - 25, 2019
at Gateway Playhouse
Barbara Schuler
'On Your Feet' review: The rhythms of Gloria Estefan are gonna get you

One thing I learned from "On Your Feet!" the Gloria Estefan bio-musical: Despite a natural love of music, she originally intended to become a psychologist.

How she abandons that goal and charts her path to superstardom is traced in relatively straightforward detail in the enjoyable if not entirely refined production that opens the season at The Gateway in Bellport. It all starts when a young Gloria Fajardo is introduced to Emilio Estefan, who's looking for a singer to join his band. Reticent for, oh, maybe 30 seconds, she finds her voice and her passion a little too quickly perhaps, but as is often the case with this kind treatment, there's a lot of story to pack into a show that runs just over two hours.

Once married, the Estefans are at odds with everyone from her formidable mother, who's none to happy with her daughter's choices (career or romantic), to the judgmental music industry that is reluctant to embrace the crossover Latin vibe of the group eventually known as the Miami Sound Machine

Director Keith Andrews has packed the company with veterans of the show, both from the Broadway production that ran nearly two years and subsequent tours. Marina Pires dazzles as Gloria, capturing the dogged perseverance that helped the singer recover from a near fatal bus crash in 1990 and soaring in major hits like "Rhythm Is Gonna Get You" and especially "Conga," the first act closer that had the audience dancing in the aisles. As Emilio Estefan, Eddie Noel is endearing, especially in love songs like "I See Your Smile." Karmine Alers is a force as Gloria's mother, and Sydia Cedeno almost steals the show as the loving abuela determined to keep her granddaughter on the right path.

Despite some sound problems and a couple of tentative performances and dance hiccups on opening night, there's plenty to entertain in this production that makes great use of original Broadway sets (David Rockwell) and costumes (Emilio Sosa). Maria Torres' high-octane choreography is so much fun it will probably send half the audience out for salsa lessons.

Above all, this is a love story — the love of Gloria and Emilio, of course, but also the love of family and most especially the love of the fans, whose heartfelt letters gave Gloria reason to fight back from her devastating injuries. The show closes with Gloria's emotional comeback performance at the American Music Awards in January 1991. "Coming out of the dark, I finally see the light," she sings, her voice momentarily catching. There's hardly a dry eye in the house.
Jessica Kennedy

Get on your feet! And that you WILL if you decide to check out Gateway Playhouse in Bellport Village as they open their 70th Anniversary Season with On Your Feet- The Story of Emilio and Gloria Estefan. Directed by Keith Andrews and featuring music produced and recorded by Emilio and Gloria Estefan & Miami Sound Machine, this stellar performance will have you singing and dancing along for a night of tremendous music and fun!

"It's going to be a lot of things that people don't expect, but it's our life," Emilio Estefan says of a play which catalogues the personal and professional experiences of him and his wife as they go from young, starry-eyed musicians, to passionate and successful superstars. From Gloria's humble beginnings steeped in tradition and hardship, to Emilio's journey to fulfill a promise to himself and his family, we watch these two young souls fall in love, and share that love- of each other, of music, of their culture- with the world. This story shares the ups and downs of their lives and careers, revealing intimate moments that make the audience feel joy, shock, fear, and celebration. You will enjoy musical favorites from "1-2-3" and "Don't Wanna Lose You," to the show stopping "Conga," all while developing a deeper appreciation for a musical pair who brought culture, class, heart, and soul to the music industry.

The cast of this show is impressive and exquisite. Marina Pires is flawless as Gloria from start to finish- her singing would be impressive enough if not for all the enthusiastic dancing to go along with it! Eddie Noel plays off her beautifully as Emilio- their chemistry is charming and genuine. Now I'd be happy with such a strong pair on center stage, but the talent doesn't stop there! Karmine Alers wows as the fiery Gloria Fajardo, and Ruben Flores is tender and heart-breaking as Josȇ Fajardo. Even the extended family commands the stage: Sydia Cedeňo plays a hysterical, yet lovable Consuelo, and her singing is melodic and skillful. The costume changes are frequent and fabulous- the vibrancy of colors adds to songs like Mi Tierra" and "Conga," and the sea of white amplifies the emotional intensity of songs like "Wrapped." Combine that with some dance moves by Broadway Choreographer Maria Torres, and you have a stage exploding with rhythm- and it's going to get you!