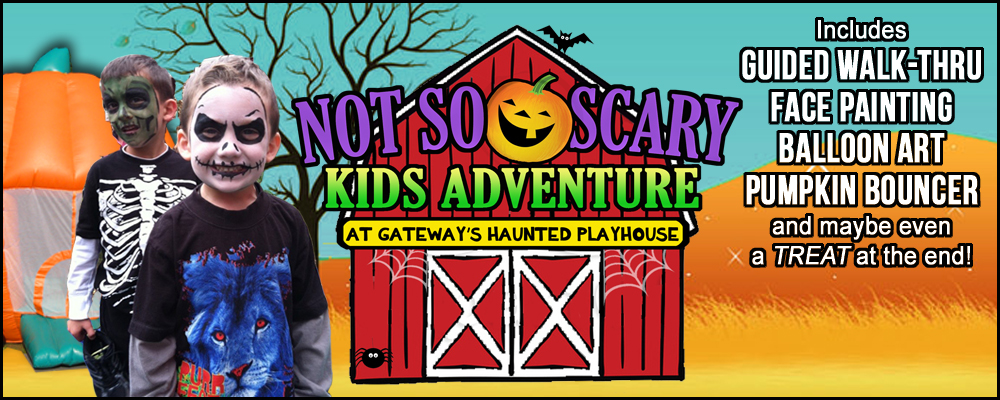 [series_data5]

-

[series_data6]




at

[venue_name]

BUY TICKETS
 
Tons Of Family Fun!
Oct 7 & 8; 14 & 15; 21 & 22; 28 & 29 
Come one come all, mini witches and warlocks, mini pumpkins and cats, mini monsters and fairies, mini superheroes and bats. Take a stroll through our batty maze as a cheerful guide accompanies small groups through this well-lit tour with not-so-many chills and thrills, but with giggles and squeals! Encounter goofy creatures, bewitching tricks, and make some new friends along the way. Family-friendly tunes complete the atmosphere… there's even a treat at the end. COME IN COSTUME! Debut this year's costume and show everyone just how spooky and grim or valiant and prim you can be.
$10 tickets*

include a guided walk-thru, pumpkin bouncer, face painting, balloon creations, hay bale maze, coloring activities, and more. Refreshments and snacks are available for purchase. No outside food and drinks are permitted.
Recommended for children ages 3 and up and those who might not be ready for Gateway's Haunted Playhouse at night. Absolutely no newborns, infants, or pregnant women. No strollers, carriages, or baby carriers of any kind are permitted inside the tour. This is strictly for the safety of you and your child! There are areas in our midway where children under 3 can be accompanied by an adult without incurring an entrance fee. Please make arrangements in advance.

*The price is $10 for each person who enters the tour, including: children, adults, grandparents, and any other living, breathing creature that chooses to take the tour.