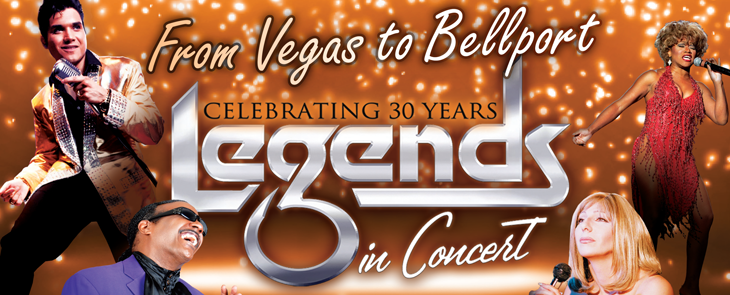 The Company

BILL CHERRY (Elvis)
is the winner of the 2009 Ultimate Elvis Tribute Artist Competition in Memphis, Tennessee. Born into a musical family, Bill was introduced to the rich sounds of southernstyle gospel at an early age from his father, a Pentecostal minister. This musical influence was one of many similarities in which Bill felt an instant connection with Elvis Presley.

A life-long fan, Bill began his professional ETA career in 1989, eager to honor the memory and music of his idol. He specializes in the concert years. Bill takes great pride in each performance. Onstage, he completely transforms himself into the King of Rock & Roll. With precise vocals, movements, and an uncanny physical resemblance, Bill's interpretive style is instantly recognizable and embraced by his audience. From the most tender love ballads, to the hard-rockin' show stoppers, Bill delivers each song with impeccable energy, spirit and heart, like that of his mentor. His efforts to maintain a respectful and accurate tribute to Elvis have proved nothing short of successful, as Bill received numerous awards throughout his career.

Prior to Memphis, Bill took first place at the 2009 Ultimate Elvis Tribute Artist Preliminaries in Tupelo, Mississippi. This back-to-back win proved historic as it was the first time any ETA won the title of Ultimate at both the birthplace and the hometown of Elvis Presley in the same consecutive year. His titles include: First Place Winner 2009 Mid-West Tribute To The King Competition, Springfield, Illinois; First Place Winner 2007 Elvis Extravaganza contest, Henderson, Kentucky; First Place Winner 2007 Ultimate Elvis Tribute Artist Contest Preliminary in the Lake of the Ozarks, Missouri; and First Place Winner Blueberry Hill's "Elvis Look Alike, Sound Alike" contest in St. Louis, Missouri for 1990, 1991, 1992, and 1994. 2011 Heart of the King award in Las Vegas. Bill continues to entertain fans worldwide and salute the greatest entertainer of all time. Bill has spent the past year traveling and touring the country as well as in Europe. He just completed a 5 month tour as a featured artist on the "Elvis Lives Tour". Website: www.UltimateElvisBillCherry.com
 



BARRIE CUNNINGHAM

(Neil Diamond)
Barrie Cunningham is a producer, entertainer, singer and musician. He has spent most of his life entertaining in clubs, lounges, showrooms, concert halls and on cruise ships around the world. He performs as a solo act or with full accompaniment. He began performing in coffeehouses singing folk music when he was 15. He later made his mark in Southern California with the popular rock-a-billy group Black Slacks. He has received many awards including Entertainer of the Year in San Diego, California and was a principal act in a show voted Show of the Year in Reno, NV for 3 years.

In 2008, he performed a concert for the opening of the new American Embassy at the historic Brandenburg Gate-Berlin, Germany. Since 1990, Barrie performed about 300 dates per year, 2 shows per day, and entertained more than 3 million show-goers. His shows perform in theaters and main casino showrooms, on cruise ships and at major corporate events. He is a popular guest on TV talk shows and receives a great deal of news press in the cities where he performs. Although best known for his live performances, he is also a recording artist with several releases. Barrie performs original material as well as songs composed by other artists. Barrie also has extensive experience in entertainment booking, production and showroom/theater operations.

Barrie is probably best known for his incredible tributes to the legendary Neil Diamond, Jimmy Buffett, and Neil Young. Barrie performs these tributes in main showrooms, theaters and cruise ships around the world including Japan, Russia, Hawaii, Canada, Australia, the Caribbean and Europe. His tributes to Diamond and Buffett were the first tributes to play an indefinite engagement in a main showroom in a major Las Vegas Casino. Roger Bartlett and Fingers Taylor, two of Jimmy Buffett's original Coral Reefer Band members now perform with Barrie in the most authentic Buffett tribute available. Other Jimmy Buffett band members you may see with Barrie include Mike Utley, Robert Greenidge, Amy Lee, TC Smith, Doyle Grisham and more. Barrie has been performing Buffett and Diamond songs for just about as long as the legends themselves. Most recent performances include Bally's-Atlantic City, NJ June-Sept 2012 and Norwegian Cruise Lines EPIC-Eastern Caribbean Oct 2012-May 2013. For additional information please contact: LEGENDS IN CONCERT www.legendsinconcert.com
 



TERRENCE FORSYTHE

(Stevie Wonder)


Now this internationally known worldwide experienced entertainer has a strong resume. He has performed with music legends like Stevie Wonder, The Temptations, Dionne Warwick, B. B. King, Boyz ll Men, Bonnie Raitt and Smokey Robinson just to name a few. He's performed on television, Broadway and he is also a gospel and R&B recording artist/writer producer. Audiences around the world are captivated by his style and performance. This is Terrence Forsythe.


 



SUZANNE GOULET

(Liza)
Born in Montreal, Canada, Suzanne travelled the world as a dancer in production shows before studying voice in NY city and becoming Liza's double. She began with Greg Thompson Prod. at Showboat in Tokyo, Japan and then at Caesar's Casino in Atlantic City to follow with "Hollywood Legends" show for 2 years at the Sand's Hotel in Puerto Rico. Her first show with "Legend in Concert" was at Bally's Grand in Atlantic City several years ago.

Since then, she has performed for "Legends" at the Imperial Palace in Las Vegas, Foxwoods Casino in CT, and also in Branson, MO, Myrtle Beach, SC plus many returns to Atlantic City. Suzanne also performed her act at The Estrel Hotel in Berlin, Germany and at the Alhambra/ Holiday Inn Casinos in Aruba. Her show "Liza and Judy, Together Again" has been on cruise ships, in the Catskills and in a few condo tours in Florida before being presented at the Suncoast Casino in Las Vegas, NV. Suzanne won the "Best Personification of a Legend" award at the 2004 Sunburst Convention, the "Outstanding Performance" award at the Reel Award in 2006 and the "Classic Crooner" award again at the Reel Award in 2009.
 



SHARON OWENS

(Barbara Streisand)
Sharon began touring all over the world as a singer/ dancer with American Entertainment Productions, opening for acts such as the Letterman, the Mandrell Sisters, Willie Nelson, Loretta Lynn and many other country acts. Although performing was Sharon's dream, so was getting an education. Sharon earned her Bachelor of Arts degree in Humanities and Vocal Music from the University of South Florida and is still pursuing her Master's in Education from Chapman University.

In 1990, she continued to work her way through college by singing and dancing at the Busch Gardens theme park in Tampa, Florida, where she also did commercial studio work for Sea World and performed in musical theater. Her college summers were spent touring the United States and England. Sharon's career as a Barbra Streisand impersonator and tribute artist began in 1992, when Sharon moved to Los Angeles where she began singing Streisand in dinner theaters and cabaret nightclubs. Her uncanny resemblance and vocal ability to sing Streisand started her career as a Legends In Concert® performer.

In addition, Sharon has been performing her "Tribute to Barbra Streisand" to critical acclaim nationwide in major showrooms, for corporate events and as a Headliner in Las Vegas. Most recently Sharon has turned to television where she was crowned the winner of the hit TV show on Fox called "Performing As..." This national success has created a whirlwind of Barbra fans waiting to see Sharon's famous tribute. Since her big TV win, she has been seen on Access Hollywood, Extra, Entertainment Tonight and even paid a visit to the Family Feud. Sharon also tours with DK productions of "The Diva's" an all female cast direct from Las Vegas. With a rigorous travel schedule, look for Sharon Owens to bring her Tribute To Barbara to a city near you.
 



COOKIE WATKINS

(Tina Turner)
A Tribute to Tina Turner Starring Tina Turner Impersonator "COOKIE." With a little push at the age of 14 from none other than the Duke Ellington, Cookie Watkins set off on a singing path and a two-decade career. "I was always described as the little girl with the big woman's voice," Cookie recalls. Starting with the voice and piano lessons at the age of eight, she soon found that her entire life was to be "lost in music." Her big brother had been a singer for nine years with Duke Ellington's band, and one night, the Duke heard Cookie singing along in the dressing room. So he persuaded her to perform on stage, and from there, with 'Sir Duke' in her corner, there was no turning back.

Cookie studied opera at Temple University and the Manhattan School of Music, but turned to popular music when she realized how long it would take to reach her peak in opera. Cookie's vocal style was heavily influenced by such R&B legends as Patti LaBelle, Aretha Franklin and, of course, Tina Turner. She's had a strong and steady career as a powerful vocalist, but it was her development as a Tina Turner impersonator that ultimately led to Cookie landing herself a regular spot as part of the rotating cast of Las Vegas' Imperial Palace long-running feature show, 'Legends In Concert'. Cookie who is known these days to perform the Best Tina Turner tribute in the world. She performs her shows throughout the United States and Internationally with rave reviews. She brings the audiences to their feet singing and dancing in their seats as they are in amazement of the likeliness not only with singing with her powerful voice, but also the incredible look with her sculpted legs. The # 1 "Tina Turner Impersonator" in The World!
 



MARISSA ANGELUCCI

(Ensemble)


of Philadelphia, is a recent graduate of The George Washington University, where she studied Business Administration and Dance. She has been dancing since the age of three, but did not begin to seriously pursue the craft until she was asked to join Jazz Unlimited's national dance team, based in Southern New Jersey, in 2004. While at JU, she was afforded several great experiences, most notably the opportunity to perform with ZZ Top during the 2008 Orange Bowl Halftime Show. Marissa is very excited to be dancing with Legends in Concert again. This will be her 4th production with the company, having previously performed with Legends in Biloxi, MS and Foxwoods, CT.


 



JOSHUA "JAY " DONALD

(Drums)


is known for his versatility as an electrifying on-stage performer. Born in Los Angeles, CA he discovered his love for drums at age three and has been playing passionately ever since. He's opened for Jay Leno, played alongside legendary performers Smokey Robinson, MC Hammer, Yolanda Adams, Kirk Franklin, Chaka Khan, The Spinners, and many more… His expertise goes beyond the drum set as he also arranges, produces, and writes, which makes him a fantastic contributor to any band or musical ensemble.


 



DON GUACK

(Guitar)


graduated with a bachelor's degree in jazz and studio music from the Cincinnati Conservatory of Music in 1995. He has played guitar with numerous national acts including: Leslie Gore, The Tolkens, Lou Christy, The Reflections, Little Anthony and the Imperials, and Don Rickles. He started playing for the Las Vegas based impersonator show Legends In Concert in 1997. Recently, he has been working as music director for Legends on the Norwegian cruise ship The Epic.


 



DANIELLE GREGOIRE

(Ensemble)


is a '12 graduate from Oklahoma City University with a Bachelor of Music in Musical Theater. She played numerous roles while there, including Audrey in Little Shop of Horrors. During the summers, Danielle worked near home at Worlds of Fun in Kansas City, MO as a singer/dancer in the production shows. She was on the OCU dance team that went to NDA in Daytona Beach, and became a National Champion in '11. This is Danielle's second contract with Legends in Concert, the first of which was on the Norwegian Cruise Line Epic ship. She is very happy to be working with these awesome people and such a wonderful company!


 



JOEY HERNANDEZ

(Ensemble)


is a member of the National Dance Association and artistic director of Resilience Dance Company a preprofessional training program for Wisconsin and Illinois Stateline youth. He received his B.A. in Dance and Health & Society from Beloit College under the direction of Chris Johnson,Gina Tai, and Sarah Wolf. As well as guest artists Robert Lewis, Dmitri Peskov, Esteban Denoso, Renay Aumillar, Paige Cunningham, and Andrea Markus. In addition, Joey is the only student to receive the annual Chavy Family endowed award for performance excellence twice from Beloit. Performance credits include West Side Story with Beth Fowler Dance Company as well as the Harvest Chicago Contemporary Dance Festival with Chelonia Dance Company. Joey was a company member of Madison Contemporary Vision prior to touring with the Las Vegas based show Legends in Concert. He has set pieces for the University of Wisconsin-Whitewater Emerging Choreographer's Concert as a guest artist and Beloit College's Repertory Dance. As well as contributed master classes and choreography for many dance studios and high school dance teams across the Midwest. In his most recent venture he has been judging for Applause Talent Dance Competitions and Raw Energy Talent during their 2013 competition season.


 



TED LANEY

(Ensemble)


Ted grew up in a small town in GA where he spent most of his childhood training extensively in dance and gymnastics. He began performing professionally at the age of 16 as a dancer in the four time Emmy Award-Winning Miss MS Pageant. After college, Ted got the chance to work for multiple cruise lines as a singer and dancer. He has spent the past 10 years traveling around the world and working with some legendary artists such as Aretha Franklin, Liza Minelli and Dolly Parton. Ted joined the Legends In Concert family over a year ago and has performed for the company in Atlantic City, onboard the Norwegian Epic and most recently at Foxwoods Casino in CT


 



JENNICA MCCLEARY

(Ensemble)


is thrilled to once again join the cast of Legends in Concert. She has performed around the country for the past 15 years as a singer, dancer, actress, choreographer and as a Bette Midler Impersonator with her own show entitled "Divine Deception." Her favorite roles include Sally (Cabaret), Aldonza (Man of La Mancha) Lucy (Jekyll and Hyde) and Magenta (The Rocky Horror Show Live!) Much love to Dad for all the support, laughs and words of wisdom. Mom, love and miss you. I know you're always watching from the best seat in the house!


 



JAKE PERSOFSKY (

(Keyboards)


A Philly native who is thrilled to be working with Legends in Concert again. This is his seventh production. He has previously worked in Atlantic City, NJ and on the Norwegian Epic. Training: Temple University. Thanks to my amazing family and friends for your love and support.


 



BRAHM SHERAY

(Bassist/Musical Director)


Brahm Sheray is a Fort Wayne, Indiana native currently residing in the San Francisco Bay Area. Brahm has been performing and conducting in the tribute show community since 1995, most notably with the long running show Legends in Concert. As a freelance Bassist, the Cincinnati Conservatory graduate can be found backing many artists in the bay area and around the country. Including Freda Payne, Diego's Umbrella, Ben Marcato, Blue Diamond Fillups, and a recent historic performance with the usually accapella group Sweet Honey in the Rock.


 



CASSIE SILVIA

(Ensemble)
is thrilled to be joining Legends in Concert! She began studying dance at 3 years old and has worked professionally all over the world. Credits include: "Tarzan Rocks!" at Walt Disney World, "Encore!" at Tokyo Disney, "Q'Viva Live!" with Marc Anthony, and featured in numerous shows onboard Holland America Cruise Line. Big thanks to her family & David for being so supportive of her dreams!
 



LORI RUSSO

(Production Manager)


Has both performed and been in Production for more than 30 years. Some of her NYC producer credits are, "Vivien" Drama Desk Nominee , "Pulso Argentino" at Laurie Beechman Theater and "Love, Isadora" at Ensemble Studio Theater. Her PM experience ranges from Corporates to Production Shows in Casinos, around the country. Most recently, she assisted with the opening and running of Legends In Concert's new show in Royal Hawaiian Theater, Waikiki.


 



TONI LEE

(Director/Staging)


Toni started performing at the early age of 3. She has worked as a dancer/singer/ actress under the names and shows of some very famous people like…Merv Griffin, Phyllis Diller, Rita Moreno, Dean Martin…etc. She has traveled all ends of the world both as a performer and as a producer/director. She has been involved with her own Production Company in which she has been a part of creating many musical shows. Toni has been a part of the Philadelphia 76's as a choreographer for their cheerleaders and has worked with the team members as well. Toni also creates shows for Face Productions. She has been involved with The Fremont Street Experience along with Face for the past 4 years as a choreographer, director and as a performer. Toni Lee has been with Legends in Concert for over 20 years and has worn many hats…from a singer/ dancer to Choreographer to her current position as Director of Production. Toni will continue to grow with Legends in Concert and Face Productions as both companies expand


 



CRAIG PALCISKO

(Technical Director/Sound)


Craig is a Cleveland, Ohio native currently residing in Las Vegas. He has more than 18 years experience in live music presentation. He has worked in all aspects of sound including music creation in recording studios as well as live tour productions in every type of venue imaginable. After earning multiple advanced recording and bachelor degrees he's had the honor of working with artists and comedians such as Lionel Richie, Chickenfoot, The Lost Trailers, Brad Garret, Ron White, Gallagher, and Billy Gardell. His contributions and highlights include Billboard Music Award events, Showtime and HBO specials as well as live DVD recordings. His career has provided him the opportunity to travel the world over and enjoy countless adventures along the way.


 
 

MELDEN STEELE

(Staging and Choreography)

A native of Oklahoma City Melden is no stranger to dance scene. He started his professional career by teaching dance conventions all across the country. He studied ballet and modern while attending the University of Oklahoma. Upon graduating, Melden continued his training in Los Angeles. Since then, he has hit the ground running, performing and choreographing industrials and productions shows all over the World! His career has landed him in Las Vegas where he has performed in various production shows as well as concert performances. Although he loves dancing, choreographing is where his heart is at. He has been with the Onstage Entertainment family for 9years .