Nov. 23 - 30, 2013
in Bellport
About Mooseltoe
Charming, colorful and magical live stage production about a Moose and his dream. Mooseltoe and his friends come to life in this whimsical fable featuring the voices of Al Roker, John Cullum and Carole Shelly.  
This is the story of MOOSELTOE
And his moose family that lives
In the ice
And the snow.

A story to tell
A story to hear
Of a moose who wants to fly
With Santa's reindeer.

He sets out his quest.
His mind on one thing.
To seek and to find…
The great wise Mooseking.

Through trial and error
Through friends and through foes
He continues his journey
He follows his nose.

He's about to give up
He's reduced down to tears
When suddenly one night
The great Mooseking appears.

He teaches our hero
What we all can perceive
To look deep inside
And learn to believe.

The North Pole's in a panic
And so is St. Nick
It's one of the reindeer.
It's Blitzen…he's sick.

I won't tell you much more
But, suffice it to say
Mooseltoe IS the hero
MOOSELTOE SAVES THE DAY!




Support for Mooseltoe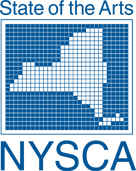 Gateway's 2013 season is made possible by the New York State Council on the Arts with the support of Governor Andrew Cuomo and the New York State Legislature.