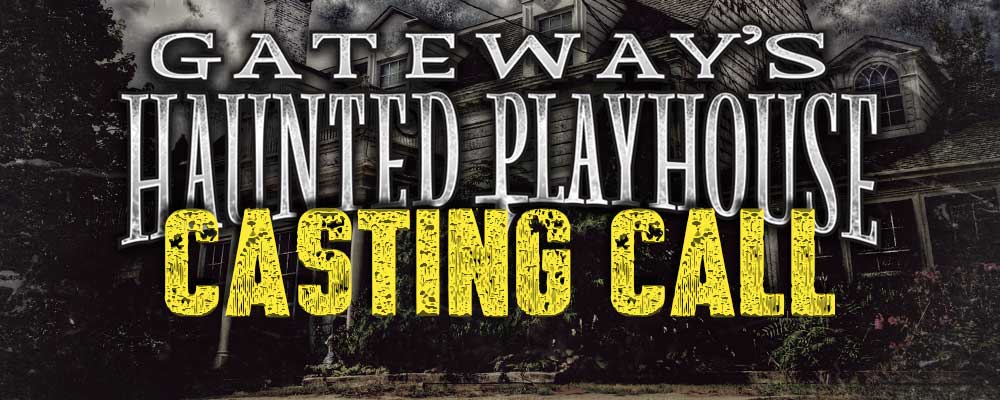 Seeking Actors For Gateway's Haunted Playhouse
One of New York's top haunted attractions is now casting for its 2023 Haunt Season
Gateway Playhouse, Bellport, is holding an open casting call for its interactive theatrical attraction: Gateway's Haunted Playhouse. We will be holding both in-person and virtual casting calls. We are seeking actors to portray characters in this haunt-style production. Actors must be comfortable with makeup, special effects, and interaction with the public. Actors will be in close proximity to patrons and fellow actors who may/may not be vaccinated against Covid. Actors must be available for most Haunt and Preview nights with limited or no conflicts.

Dates: Dates: Rehearsal: September 28. Performances: September 29,30, October 1, 6, 7, 8, 12, 13, 14, 15, 18, 19, 20, 21, 22, 24, 25, 26, 27, 28, 29, 30, 31, Nov. 4, 5. Hours are typically 5:00-10:00pm Sunday thru Thursday, last ticket sold at 10:00, and 5:00-11:30pm Friday and Saturday, last ticket sold at 11:30pm. Some makeup call times may be earlier.

ADULTS: Please email casting@thegateway.org a headshot, resume, and quick 30-45 second video of a slate and yourself acting something other than human (no makeup, masks, or others need to be used in the scene). If you have any special haunt skills, please show them to us in the video! Please also note if you have any special effects makeup experience such as transfers, air brush, prosthetics, etc. We offer limited housing on property (must fully vaccinated against Covid-19 to live on property) and masks are optional. Callbacks for in-person or virtual auditions will be at a later date/time TBA. Paid positions: $110 for short nights (Wed, Thurs, Sun), $140 for long nights (Fri, Sat). Train fare reimbursed per week.

NEW YOUTH HAUNTERS: Must be 13+ to volunteer. In-person audition will take place on Thursday, September 7 from 4:30-6:00pm at Gateway Playhouse in Bellport. Please bring a headshot/resume with you if you have one. If cast, there will be a MANDATORY informational meeting for parents and new volunteers at a date Wednesday, September 13th from 5:00-6:00pm. Previous youth haunters need not attend.

PREVIOUS YOUTH HAUNTERS: There will be a MANDATORY informational meeting for parents and previous haunters on Wednesday, September 13th from 5:00-6:00pm.