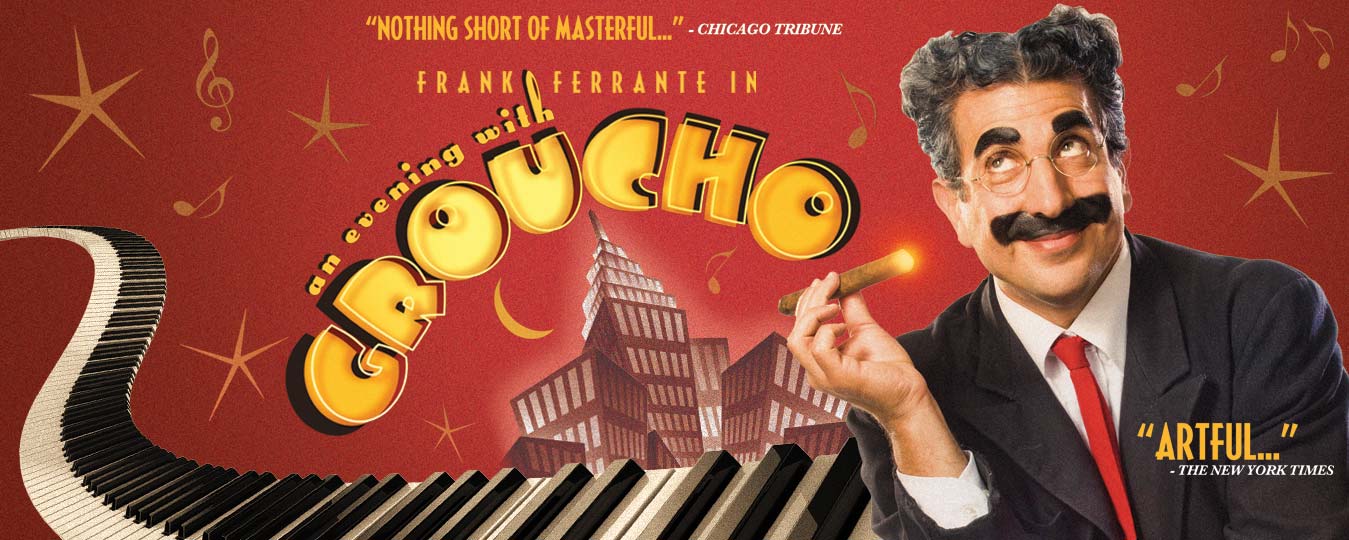 Feb 1 - 2, 2020
at Gateway Playhouse
Award-winning actor/director/playwright Frank Ferrante recreates his PBS, New York and London acclaimed portrayal of legendary comedian Groucho Marx in this fast paced 90 minutes of hilarity. The two-act comedy consists of the best Groucho one-liners, anecdotes and songs including "Hooray For Captain Spalding," and "Lydia, the Tattooed Lady." The audience literally becomes part of the show as Ferrante ad-libs his way throughout the performance in grand Groucho style. Accompanied by his onstage pianist, Ferrante portrays the young Groucho of stage and film and reacquaints us with the likes of brothers Harpo, Chico, Zeppo and Gummo, Charlie Chaplin, W.C. Fields, Greta Garbo, Marx foil, Margaret Dumont and MGM's Louis B. Mayer. A show perfect for all ages!
 


Content Advisory: May not be suitable for all ages. While there is no official rating system for live theatre, we encourage you to use your judgment based on age, maturity level, and subject matter.
Bios

FRANK FERRANTE

Frank Ferrante - (Groucho) is an actor, director, and producer described by The New York Times as "the greatest living interpreter of Groucho Marx's material." Animal Crackers and A Night at the Opera co-author Morrie Ryskind called him "the only actor aside from Groucho who delivered my lines as they were intended." Discovered by Groucho's son Arthur when Frank was a drama student at the University of Southern California, Frank originated the off-Broadway title role in Groucho: A Life in Revue (written by Arthur) portraying the comedian from age 15 to 85.

For this role, Frank won 1987's New York's Theatre World Award and was nominated for an Outer Critics Circle Award. He reprised the role in London's West End and was nominated for the Laurence Olivier Award for 'Comedy Performance of the Year.' Frank played the Groucho role in the off-Broadway revival of The Cocoanuts and has played Captain Spalding in several productions of Animal Crackers winning a Connecticut Critics Circle Award for his portrayal at Goodspeed Opera House and a Helen Hayes nomination in Washington D.C. at Arena Stage. In Boston in 1988, he played the Huntington Theatre in the record-breaking run of Animal Crackers that landed Frank on the cover of American Theatre magazine. His other regional roles include Max Prince in Neil Simon's Laughter on the 23rd Floor at Philadelphia's Walnut Street Theatre (which Frank also directed); George S. Kaufman in By George (a one-man play written by Frank); Tom in the farce Perfect Wedding; Oscar in The Odd Couple and leads in The Sunshine Boys, Lady in the Dark and Anything Goes. Frank directed M*A*S*H star Jamie Farr in the Kaufman & Hart comedy George Washington Slept Here and revivals of Simon's The Sunshine Boys, Brighton Beach Memoirs, Biloxi Blues, Broadway Bound and Lost in Yonkers. In 1995, he directed and developed the world premiere of the Pulitzer finalist Old Wicked Songs. In 2001, Frank starred in, directed and produced the national PBS television program Groucho: A Life in Revue. Frank currently stars as the comic lead in the European cirque Teatro Zinzanni in San Francisco and Seattle. This year he became a question on the classic TV program Jeopardy. "He took his portrayal of Groucho Marx to New York in 1986." The answer: "Who is Frank Ferrante? 


GROUCHO MARX

The New York Times summed up the comedy genius as "America's most gifted funny man." Born Julius Henry Marx on October 2, 1890, Groucho was the third of five sons born to poor immigrant parents Sam and Minnie Marx. Chico and Harpo preceded him. Gummo and Zeppo followed. Straight from the streets of New York's upper Eastside, Groucho was thrust onstage at age 15 as one third of the singing Leroy Trio. Eventually, brothers Harpo, Chico, Gummo and Zeppo joined the act that began as the singing Four Nightingales and evolved into the world's funniest vaudeville act known as the Marx Brothers. After twenty years of touring their act all over the country, the Marx Brothers finally hit pay dirt with a musical comedy called I'll Say She Is. Audiences and critics went ballistic over the brothers' irreverent humor, the expert pantomime, the wisecracks, the physical shtick, the outrageous musical talent. Said one local Philadelphia critic about the show, "It was as if a tornado hit town. We've never seen anything like the Marx Brothers." I'll Say She Is moved to Broadway in 1924 and was an instant sensation legitimizing the Marx Brothers as world-class talents. Two more Broadway hits followed - The Cocoanuts and Animal Crackers introducing audiences to Groucho's most renowned incarnation - Captain Spalding, the African Explorer. In 1930, Groucho and his brothers moved to Hollywood and changed the face of film comedy forever. There they made Monkey Business, Horse Feathers, Duck Soup, A Night at the Opera, A Day at the Races, Room Service, At the Circus, Go West, The Big Store, A Night in Casablanca and Love Happy between 1931 and 1949. The Four Marx Brothers appeared on the cover of Time Magazine in1932. As a solo, Groucho launched a career on radio and television with his Emmy Award winning work as the host of the comedy quiz show You Bet Your Life. The show flourished for fourteen highly rated seasons from 1947 to 1961 on ABC radio then NBC television. Groucho was a major fixture in 1950's television with his "secret woid" and a duck that dropped from the sky to pay wacky contestants "an extra hundred dollars." In the late 1960's, a renewed interest in the anarchic hijinks of the Marx Brothers swept across the nation - particularly among college age students. Fortunately, Groucho Marx survived long enough to experience his renaissance. He made TV appearances, performed at Carnegie Hall at age 82 and received a special Academy Award in 1974 for the brilliant and unequalled achievements of the Marx Brothers'. On August 19, 1977 Groucho Marx died at age 86. His final request? "Bury me next to Marilyn Monroe."