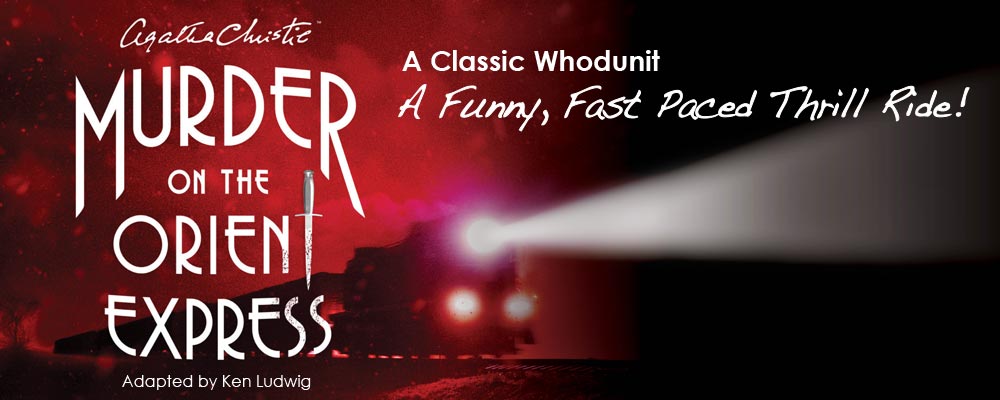 March 6 - 15, 2020
at Gateway Playhouse
Just after midnight, a snowdrift stops the Orient Express in its tracks. The luxurious train is surprisingly full for the time of the year, but by the morning it is one passenger fewer. An American tycoon lies dead in his compartment, stabbed a dozen times, his door locked from the inside. Isolated and with a killer in their midst, detective Hercule Poirot must identify the murderer – in case he or she decides to strike again.
 
Reviews-

"The fast-moving, powerful theatrical locomotive Murder on the Orient Express will get you to a better place, and slay you merrily en route." Hartford Courant

"Agatha Christie is not the bestselling novelist in history for nothing, and Ken Ludwig's adaptation strikes the perfect balance of the cerebral and the comic. Get on board – it's a great ride." / Houstonian Magazine

"I felt myself leaning in with the entire audience when detective Poirot tells us he's figured out who did it. What a climax! When the train whistle blows in the theater, all we need to do is sit down, shut up and enjoy." / The Houston Chronicle

"A love letter to the original material, with a swift moving script adaptation by Ken Ludwig. ... Everything you could want - broadly drawn characters, exotic settings, and a spectacular murder with no shortage of suspects." / Broadway World


Content Advisory: May not be suitable for all ages. While there is no official rating system for live theatre, we encourage you to use your judgment based on age, maturity level, and subject matter.