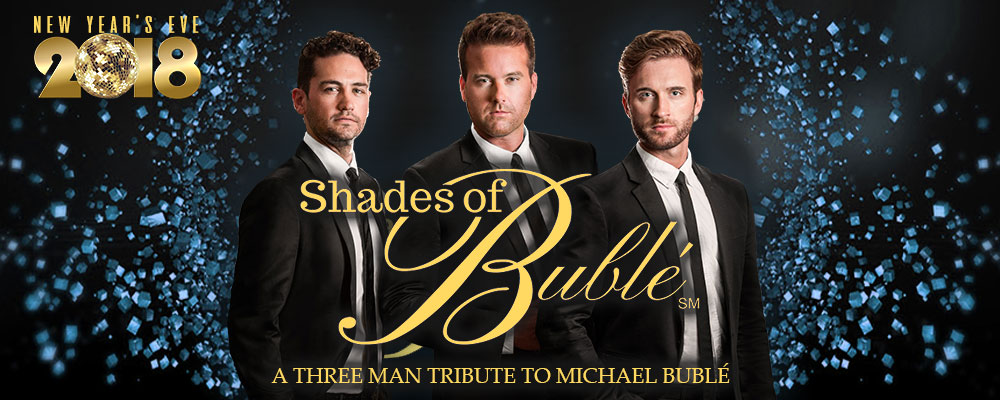 Dec 31, 2018 - 7pm and 10:30pm
at Patchogue Theatre
Exciting Harmonies, Smooth Choreography, and Charming Good Looks
With three voices singing incredible songs like "Feeling Good," "Moondance," "Come Fly With Me," "Home," "Everything," "Fever," "Save the Last Dance for Me" and many more, Shades of Bublé : A Three-Man Tribute to Michael Bublé brings the swinging standards and pop hits of "the modern Sinatra" to the stage in an unforgettable high-energy concert event.  Beginning with an amazing sold-out debut at the end of the 2014-2015 concert season, this act has already begun wowing audiences around the country with exciting harmonies, smooth choreography, and charming good looks.

Delivering a setlist comprised only of songs recorded or performed live by Michael Bublé, this world-class tribute act honors (but doesn't imitate) the sophistication, retro style, and high-energy fun that Bublé himself brings to his concerts while engaging diehard fans with thrilling new three-part vocal arrangements. Shades of Bublé gives audiences seamless variety by combining big-band standards from the jazz era, classic hits from the 50s/60s/70s, as well as Billboard chart toppers from today in a thrilling show that generates standing ovations from sold-out crowds.

Join us at our special 10:30pm performance of Shades of Bublé at Patchogue Theatre and ring in the new year!  Hats and noisemakers are provided, champagne and hors d'oeuvres will be passed, and a live stream of the Times Square ball drop will be shown on the big screen.

Content Advisory: May not be suitable for all ages. While there is no official rating system for live theatre, we encourage you to use your judgment based on age, maturity level, and subject matter.