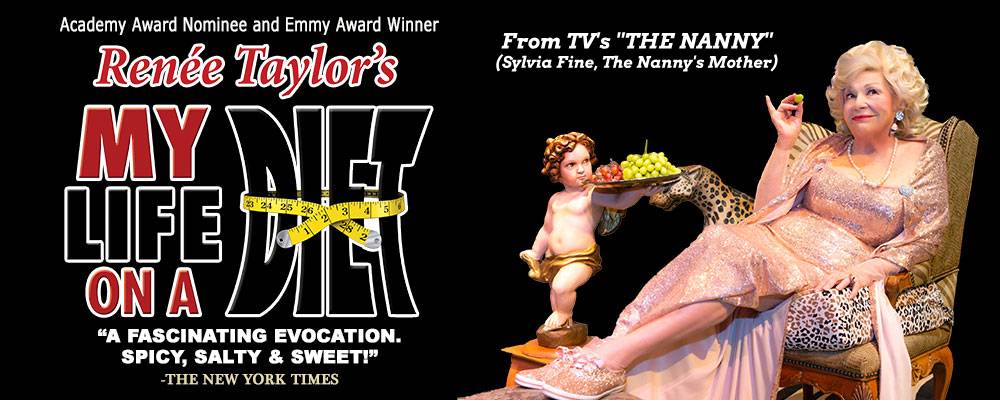 Feb 28-29, 2020
at Gateway Playhouse
You'll Drop 300 Calories Laughing!
Academy Award-nominated and Emmy Award-winning writer and actress Renée Taylor – known to millions for her role on The Nanny as Fran Fine's food-obsessed mother - looks back on a life full of memorable roles in Hollywood and on Broadway, and just as many fad diets. A self-described "diet junkie," Taylor dishes out juicy anecdotes about -- and weight loss tips from -- Hollywood legends such as Joan Crawford, Marilyn Monroe, Marlon Brando and Cary Grant (she used to think that if she ate like a star, she'd just might live like one). By sharing her highs and lows – on and off the scale – as only she could, Renée Taylor proves how the ability to laugh will get you through it all.

Renée explains, "A few years ago, I had the pleasure to work with my friend Nora Ephron on her wonderful play, Love, Loss, and What I Wore. I told her that, as a woman who had worn every size from 4 to 18 over the years, my version of the play would be called, 'Love, Loss, and What I Ate.'  Well, this is that play, but I ended up calling it MY LIFE ON A DIET."

MY LIFE ON A DIET is written by Renée Taylor and Joseph Bologna, and directed by Joseph Bologna.

Content Advisory: May not be suitable for all ages. While there is no official rating system for live theatre, we encourage you to use your judgment based on age, maturity level, and subject matter.